The secret of Life?
The secret's in the sauce.  Tomato sauce, that is.
It's PINK SATURDAY with Beverly, and I am offering up these great pink tomato varieties and some deliciousness to go along with them. 
There's just something about "tomato" that says Summer to me.  I like them in all shapes, colors and sizes when they are homegrown.  Very few get brought home to my kitchen except during the summer when tomatoes are at their best.
My preference now is for heirloom varieties because there is a depth of flavor that does not seem to me to be present in those that are grown for shipping.  I live in a state known for its tomato crop, and there are some mighty fine tomatoes grown here if you can't grow your own.
The famed Bradley County Pink Tomatoes are grown on family farms and celebrated each June during the Bradley County Pink Tomato Festival.  It's one of the oldest running festivals in Arkansas.  While it's too late for this year's festivities, perhaps you will want to put that on your calendar for next June. To celebrate 50 years of Pink Tomato Festivals, the festival committee  put together a 50th Anniversary Cookbook. There are 850 entries in the book and each recipe includes tomatoes as an ingredient. To purchase a cookbook send your name and address with $15.00 per copy plus $5.00 per book for shipping and handling to:

Pink Tomato Cookbook 
108 South Walnut
Warren, AR 71671
The Arkansas Traveler is really a deep pink (rose)  tomato variety;  I just had to show you how pretty they can be, and they taste even better.  (Some tomato photos courtesy of Tomatobob.com.)
If you haven't met up with Tomato Bob, you should give his web site a look.  This is where I first began ordering my heirloom tomato seeds years ago. 
There are plenty of books and web sites that can tell you about canning and freezing tomatoes for those of you interested in doing that.  I thought, however, that you might like to give these a try.
Tomato-Bacon Jam
Makes about 2 cups
(Sounds unusual, but it sure is good.)
(Recipe courtesy of Associated Press.)

1/2 pound smoked bacon, about 6-8 slices (I used applewood smoked but peppered is good as well.)
2 pounds very ripe tomatoes, cored and chopped
1 medium yellow onion, diced
1 cup granulated sugar
2 1/2 tablespoons cider vinegar
1 teaspoon salt
ground black pepper to taste (I used cracked black pepper.)
I
n a large skillet over medium-high heat, cook bacon until crispy.  Drain on paper towels and pat dry.  Set aside.  In a large saucepan, combine tomatoes, onion, sugar, vinegar, salt and pepper.  Bring to a boil, stirring often, then reduce heat to medium.  Crumble in the bacon and simmer until mixture is very thick, about one hour.  Season to taste with additional salt and pepper.  Let the jam cool, then ladle into jars or freezer-safe containers.  It will keep, refrigerated, for 3-4 days, or frozen for up to 2 months.  If freezing, let thaw in the refrigerator overnight.
Variations:  Try adding a finely diced jalapeno, fresh oregano or fresh rosemary.
Serve with hamburgers, grilled cheese sandwiches, or over grilled meats or cream cheese as an appetizer.  We also like it served with purple hull peas and pinto beans.
Delicious!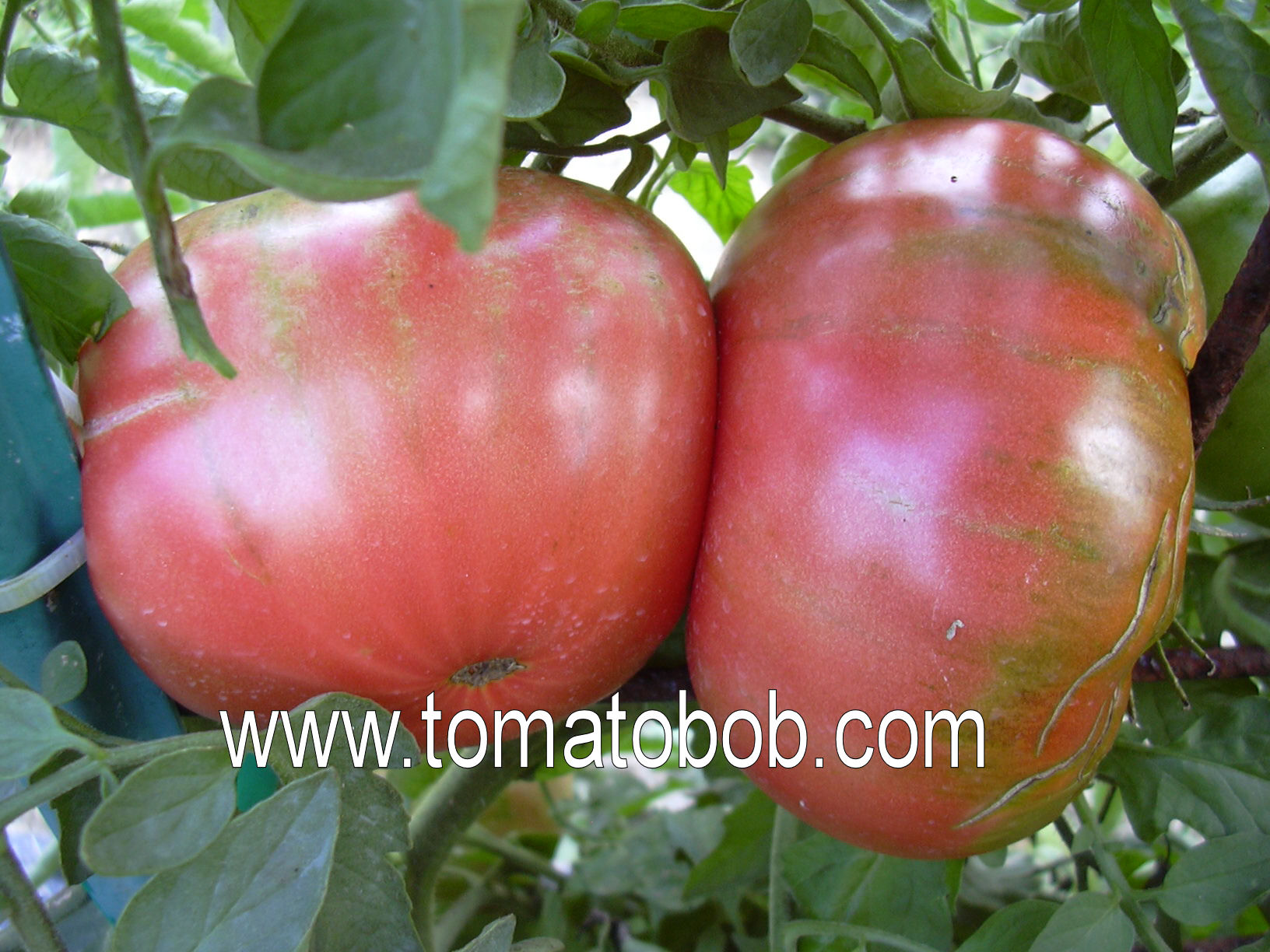 Fruit-Jar Tomato Relish
Makes 1 quart
(Recipe courtesy of Farm Journal, 1973.)
This variety is Caspian Pink.  It is similar in taste to Brandywine.  This is one of our favorite pinks.
2 tomatoes, peeled and chopped
1 cucumber, peeled and chopped
1 green bell pepper, seeds removed and chopped
1/4 cup chopped white onion
1/2 cup olive oil
2 tablespoons white wine vinegar
1 tablespoon snipped fresh Italian parsley
1 small clove garlic, minced
1/2 teaspoon salt
dash of ground black pepper
In a 1-quart glass jar (hence the name), alternate layers of tomatoes, cucumber, bell pepper and onion until all are used.  Combine the remaining ingredients and pour over the vegetables; cover and chill overnight.  Turn the jar upside own during part of the chilling in order to marinate all of the vegetables evenly.
Serve as an accompaniment to meats and vegetables.  It is surprisingly pretty and tasty.
This pink variety is called Soldacki.  It's a great low-acid slicing tomato.
Warm Tomato Vinaigrette
(Recipe courtesy of Fresh Herb Cooking, 2001.)
4 tablespoons sherry vinegar
2/4 cup olive oil
1 sprig thyme
1 sprig savory, leaves only
1 sprig chervil, leaves only
2 small tomatoes, peeled, seeded and diced
freshly ground black pepper
In a small saucepan, bring the vinegar to a boil; cook for 3 minutes, remove from the heat and add the olive oil, thyme, savory, chervil, tomatoes, salt and pepper to taste.  Cover and set aside.
I use this as a sauce for baked, broiled or grilled fish such as snapper, flounder or grouper.
Eva's Purple Ball is more pink than purple.  It was a prolific producer all summer long and was very disease resistant.
Tomato Gravy
Makes 1 1/2 cups
 (Recipe courtesy of Screen Doors and Sweet Tea.)
2 tablespoons bacon drippings or unsalted butter
2 tablespoons all-purpose flour
1 14 1/2-ounce can stewed tomatoes, with juice, or 2 large ripe tomatoes, peeled and seeded
1/2 cup tomato-vegetable juice blend or tomato - clam juice.
In a heavy stainless steel or enameled skillet, heat the dripping over medium heat.  Add the flour and stir with a whisk.  Cook for approximately 2 minutes, or until the flour begins to brown.  Add the tomatoes and the juice, whisking constantly.  Immediately lower the heat and simmer for about 5 minutes, or until thickened and bubbly.
Serve over grits or biscuits.
And finally, this tomato juice recipe from Don Bingham.administrator and chef  at the Arkansas Governor's Mansion. 
Homegrown Tomato Juice
10 pounds fully ripe tomatoes, quartered
2 cups chopped onion
2 cups chopped green bell peppers
1 cup chopped carrots
1 cup chopped celery
salt and pepper to taste
Combine all in a large cooking pot.  Simmer, covered, for 45 – 60 minutes until the vegetables are very soft.  Press through a sieve or colander, extracting all juice from the cooked mixture.  Place juice in a pan and heat to boiling.  Pour into scalded canning jars and seal.  Process according to your pressure canner guidelines or keep refrigerated.  Stir well before serving.  You can add Tabasco to taste if you desire.

  Have you signed up for Crock Pot Wednesdays yet?  Hurry on over and get yourself signed up for this sure-to-be-fun event.  Get the details HERE.
Also linked to:  Simple Supper Saturdays